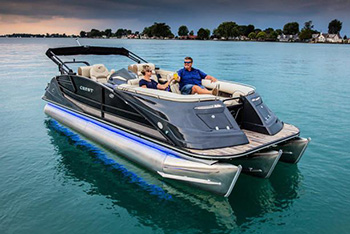 Welcome to Moon Marine
Moon Marine is a full service boat dealer ready to address all your boating needs. Our customer's confidence is reflected in our high customer service rating. Join the fun of a boating lifestyle with Moon Marine. Whether you are looking to fish, ski, take the family out, or just cruise, we have a boat for you! We carry Crest Pontoon boats, Princecraft Pontoons and Deckboats, Larson FX Fishing boats and now Starcraft Fishing! If you are looking for an upgrade, we take trade-ins in addition to offering in-store financing. We equip these boats with both Mercury and Yamaha outboard engines. Already have a boat, but need service? We look forward to helping you and getting you back out on the water.

Visit our showroom in Fond du Lac, WI or online.
Current hours We are here Monday through Friday 8-5. We are now open Saturdays 8-12.

We will be closed Memorial Day weekend, May 27 through 29,2023. Have a safe weekend.

You can contact us anytime at 920-907-8021 or via email moonmarine@att.net


Check us out on Facebook!



SALE- SALE-SALE We still have great 2023 Crest pontoon boats available.

Get out on the water this summer in a beautiful new Crest!

FACEBOOK AND INSTAGRAM We are on Facebook - LIKE our page!!
Follow us on Instagram at moonmarineboats.

New boats! NEW Crest 2023 models are here. Come see the new updates.

If you are thinking of that new Crest, come in now for the best deals!

BUY NOW AND SAVE!

We always welcome trade ins on new and used boats.

Watch our website and facebook for updates.

Check out our great inventory of new and used boats!


Moon Marine
N7375 Mosher Drive, Fond du Lac, WI 54937 • Phone: 920-907-8021